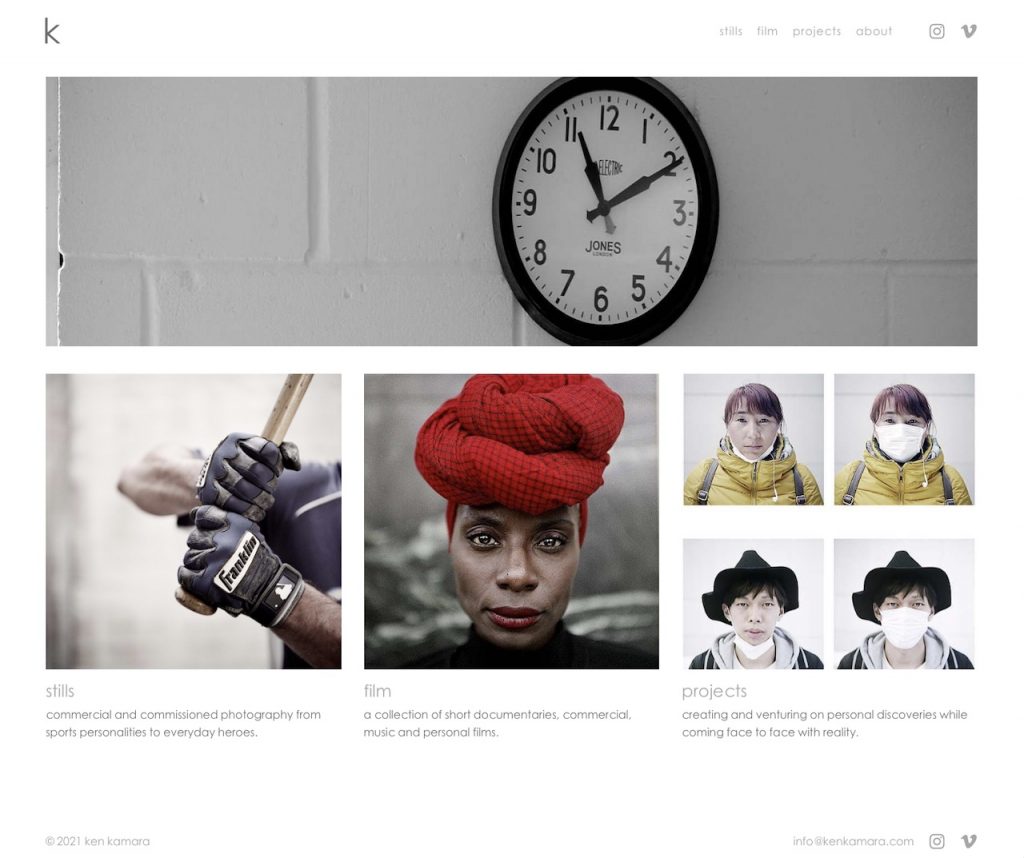 Get a beautiful, custom made Online Portfolio for only €389
Professionally designed and developed just for you
First off, it's February! Everything is grey and everyone is social distancing more than ever.
Let's not be gloomy though.
If you are a photographer looking to build your online presence, today is a really good day to start exposing your work to the world.
As a freelance photographer, you may normally not be able to hire an agency to design and develop a website for you. That shouldn't mean you have to settle for the same old Squarespace template that everyone else is using, or spend weeks setting it up to look... sort of OK-ish. Because that's just sad. So instead, we came up with this special offer for you.
Over the next 2 weeks, we'll design and build 10 beautiful online portfolios for a mere fraction of what you typically pay for a custom website. For only €389 you will get a unique and professional portfolio that will make you stand out to potential clients. The website will let you showcase your work in stylish lightbox galleries, tell your story, promote your social media accounts, and give clients a convenient way to contact you directly from the site.
The website will have an attractive, custom design that is a direct reflection of your work, your style, your brand.
The website will be hand-coded from scratch, meaning you get an extremely fast, extremely lightweight website – crucial for search engine visibility.
The website will be powered by WordPress – the world's most popular content management system, which makes managing and updating your online portfolio a breeze.
Most importantly, it will be your website. You will not be locked in to some paid monthly service, controlling what you can and can't do with the site. It will not be deleted if you cancel your subscription. You can host your photography portfolio website wherever you want, move it whenever you want, change it however you want, turn it into whatever you want... It's all yours.
If you were looking to get a personal photography website, or if you already have a DIY website but want to level up and get a more professional online presence, this is most likely the best deal you will come across in 2022. So don't miss out. The seats are limited.
What you get:
Custom Website

A simple, clean, professional photography portfolio website with beautiful lightbox galleries that you can easily manage yourself.

Responsive Design

Flexible grids, images, and typography make your online portfolio look great on all screens and devices.

Optimised Images

Simply upload your photos and the system will automatically resize, sharpen, compress, convert and optimise them.

Built-in SEO

Optimised for search engines and social sharing. No need to do a thing.

Cloud Hosting

Enterprise-grade cloud hosting served over the world's fastest edge network for only €10/month. No contract, cancel anytime.

Free SSL

A lifetime SSL certificate to show your visitors you run a secure, trustworthy website.

Free Domain

Domain included in your hosting if you choose to pay on a yearly basis.
What's the catch?
No catch, just a great deal. If you already have hosting somewhere else that is fine too. In this case we will deliver your photography portfolio website as a compressed archive with instructions on how to import it to your WordPress installation.
Fantastic. Now what?
Simply sign up using the form on this page, and we'll get back to you to schedule a quick online meeting where we talk everything through and make sure we're on the same page before we get to work. We'll then set up a development site where you can upload your photos and work on the content while we build and design your portfolio. Your personal photography website will be ready for launch as soon as you are.
See you soon 🙂