Worry-Free Content Updates
Our focus on usability includes you – the person or team managing the website content.
On our websites, nothing is hardcoded. This means that you can easily edit everything that is meant to be edited – texts, headings, links, images, and pretty much everything that is visible on the front end  –, without having to worry about breaking anything on the website.

Add Sections and Features
Thanks to the modular architecture of our websites, it is also easy for us to make any changes to the site that you may require in the future.
Even better, so can you! With the click of a button, new sections and features can be added to any page. We agree beforehand on what parts of the design you may want to reuse, and then turn those parts into reusable components that can be inserted anywhere across the site.
This means that you can easily build out existing pages, or create entirely new pages that are just as varied and aesthetically pleasing as the ones we initially designed for you.

Interactive Documentation
If you need help figuring out how something works, you will find the website documentation that we have created for you readily available from the WordPress admin area. The documentation provides interactive, step by step guidance for any custom functionality that we have built for you. Following along couldn't be easier!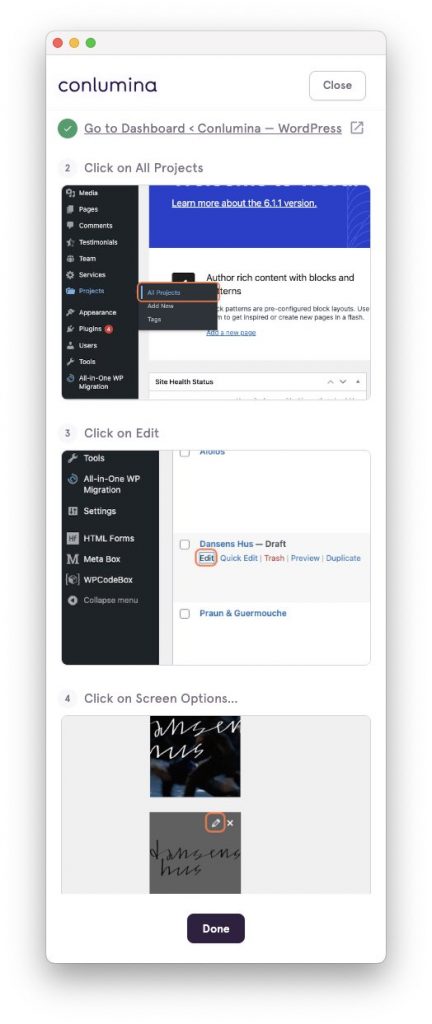 Help Desk Support
If you still need our help with anything, you can always give us a call or contact us directly from your WordPress dashboard. We are there for you at all times.